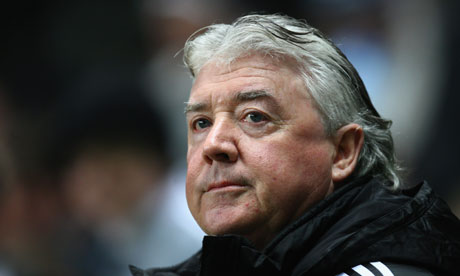 Joe Kinnear is the greatest manager in the history of association football. Says Joe.
Joe Kinnear's return to Newcastle United is already destined to end in tears, even though he's only officially been employed by them for a few hours.
Former Magpies boss Kinnear is back on Tyneside as the club's director of football.
That's right, lads. Newcastle have brought back a man who took charge of 26 games during the 2008/2009 season, winning five of them, and contributing largely to their relegation from the Premier League. Even Graeme Souness did a better job at St James's Park.
The 66-year-old Irishman announced his return to Newcastle on Sunday, in an exclusive interview with Sky Sports News. He then held another 'exclusive' interview, this time with Talksport, on Monday. But it wasn't until Tuesday that Newcastle officially confirmed that he'd signed a three-year deal with them.
The first interview, with SSN w*nkerman David Garrido, smelt strongly of self-promotion. The following day's radio interview was even worse as he displayed arrogance and stupidity in equal measures.
Calling the managing director Derek 'Lambezi' or the star midfielder Yohan 'Kebab' was ignorant at best, though not completely unacceptable. Even the much-loved Sir Bobby Robson mistook Shola Ameobi for Carl Cort more than once. But the Toon Army members who revered Sir Bobby began to revile Car Crash Kinnear when he claimed to have "more intelligence" than those who criticised him.
Then, as John Bunnell would say on World's Wildest Police Videos, things went from bad... to worse. Kinnear committed a horrendous oral crime, as he suffered reverse amnesia and claimed to have brought goalkeeper Tim Krul to Newcastle. The Dutchman was actually signed by Souness in 2005, and thus predates Kinnear's first reign at St James' Park by three years.
Those are the three big talking points, but what other garbage did Joe the Eejit come up with in those two interviews?
JOE SAID: "Geordies are Geordies - they want locals in charge. Because I wasn't a Geordie, that went against me."

TDTR SAYS: Kevin Keegan was from Doncaster in south Yorkshire, but the Geordies didn't turn against him.

JOE SAID: "Just for the record, I've never been manager at a club that's got relegated."

TDTR SAYS: Apart from the time his Luton Town team were relegated to Division 3 in 2001.

JOE SAID: "I've never been sacked in my life."

TDTR SAYS: Luton sacked him two years later.

JOE SAID: "Last year, I was at the [LMA] awards when Alan won it. I said, 'Congratulations, but you have to get two more to catch me!"

TDTR SAYS: Alan's already caught you, Joe. Messrs Pardew and Kinnear have each won just one LMA Manager of the Year award, with Joe's coming in 1994.

JOE SAID: that he played more than 400 times for the great Tottenham Hotspur side of the 1960s and 1970s when talking about how much experience he has.

TDTR SAYS: He only played for them 258 times - a mere 142 shy of the quadruple-century.
It is incredible that a man with such an overrated opinion of himself, and such an average record when it comes to signing players, can be placed in charge of transfers, meaning that Newcastle's excellent scout Graham Carr and managerial mastermind Alan Pardew both have to answer to him. May I remind Kinnear that it was Carr who brought players like Yohan Cabaye and Papiss Cisse to United, and Pardew who turned those underrated players into bona fide Premier League stars.
Last season's very disappointing 16th-place finish was perhaps a sign that Newcastle needed to approach this coming campaign a bit differently, but it wasn't exactly a bright idea to bring back Kinnear, who in his earlier spell would have relegated the Magpies sooner had he not suffered a heart attack in February. That reminds me of another thing that Joe said in his Sky interview:
"When I had my heart attack we were flying... we were 12th."
No, they were 15th, and hadn't won for six matches.
Kinnear's appointment makes the decision early last season to give Alan Pardew a new eight-year contract look even more crazy. If the new director of football undermines his manager over new signings, I can't see Pardew staying in his job beyond 20 July, let alone 2020.
Hopefully, Newcastle will figure out exactly what Joe Kinnear is all about... before it's too late. Again.
Donald Trump called - he wants his ego and haircut back.